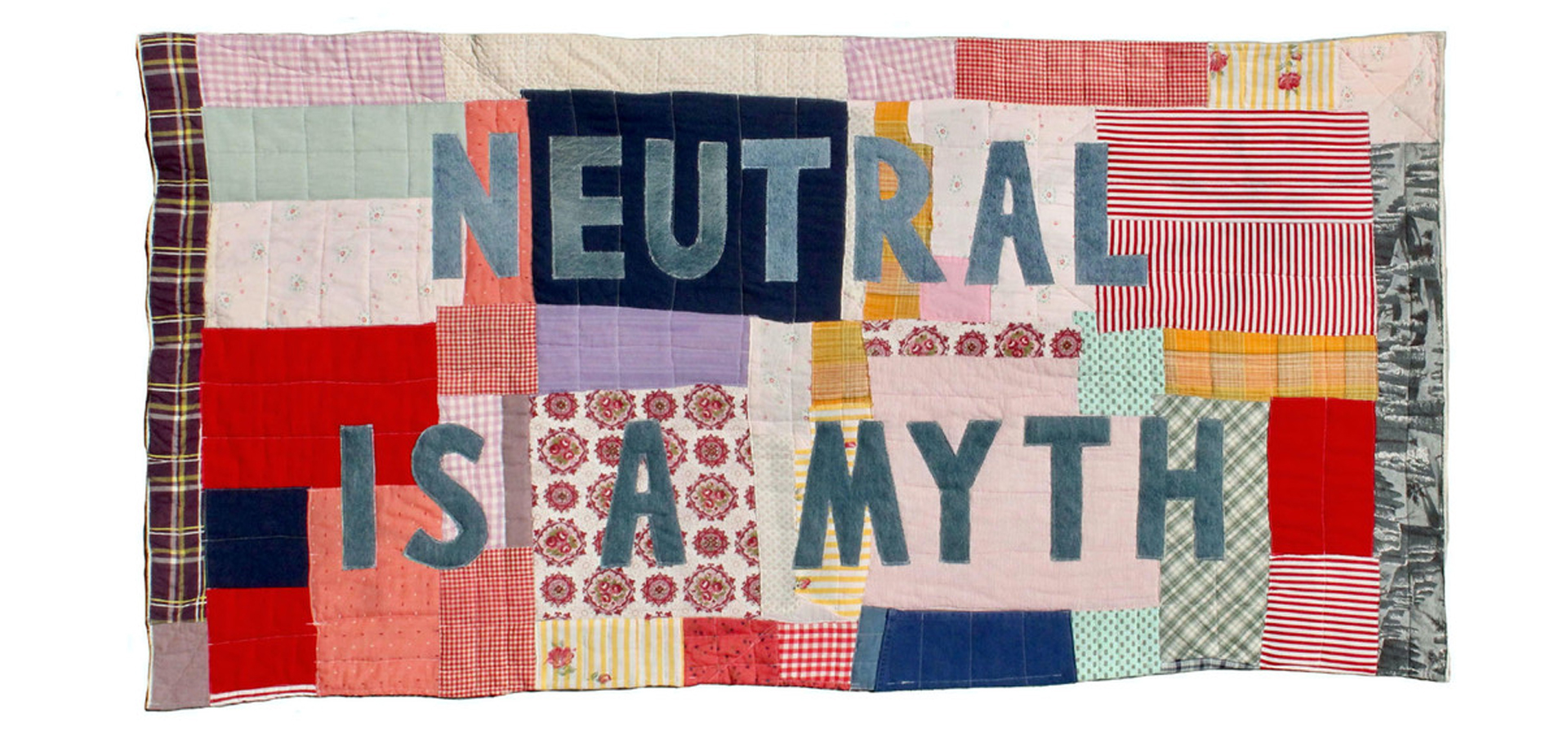 Since summer 2020, Flora Wilds has been making protest signs ("soft signs") for her friends who are a part of the Black Lives Matter movement, as part of a mutual aid effort using what she has at hand: time, sewing machine, and old quilts. These functional, recycled, collaborative resistance objects are meant to be used over and over.
Wilds asks her friends what they want their soft sign to say, and then machine sews that text (often cut from used clothing/other recycled textiles) onto amended and collaged quilt section. The first round of soft signs was made with a quilt her grandmother made as the "base," and she has made other signs with quilts that she's sourced from e-Bay. These quilts come from cities all over the US, Wilds works with them, and then sends the soft signs off to protesters (again, in cities all over the US): She has sent signs to friends in San Francisco, San Diego, Seattle, NYC, Boston, Minneapolis, etc.
Flora Wilds, Neutral is a Myth, 2020. Image courtesy of the artist
Flora Wilds, CARE NOT COPS, 2020; NO JUSTICE NO PEACE, 2020; BLACK LIVES MATTER, 2020; NEUTRAL IS A MYTH, 2020; CARE NOT COPS, 2020. Images courtesy of the artist
Purchase this artwork and others from the Call & Response exhibition online at MCD's Artists Marketplace.
ARTIST MARKETPLACE
Flora Wilds (b. 1993) received her BA in Art History and Philosophy from Suffolk University in 2017, and was awarded an MFA Fellowship from the San Francisco Art Institute in 2019 (graduating May 2021). Recent exhibitions include: "How Not To Be Held Down By Air," at the Schafer Gallery at Fort Mason, and a solo installation, "EVERYTHING CAN GO," in a commercial storefront in downtown San Diego. Wilds has shown work at the NARS Foundation, Flux Factory, Paradice Palase, and has been featured in ARTnews.