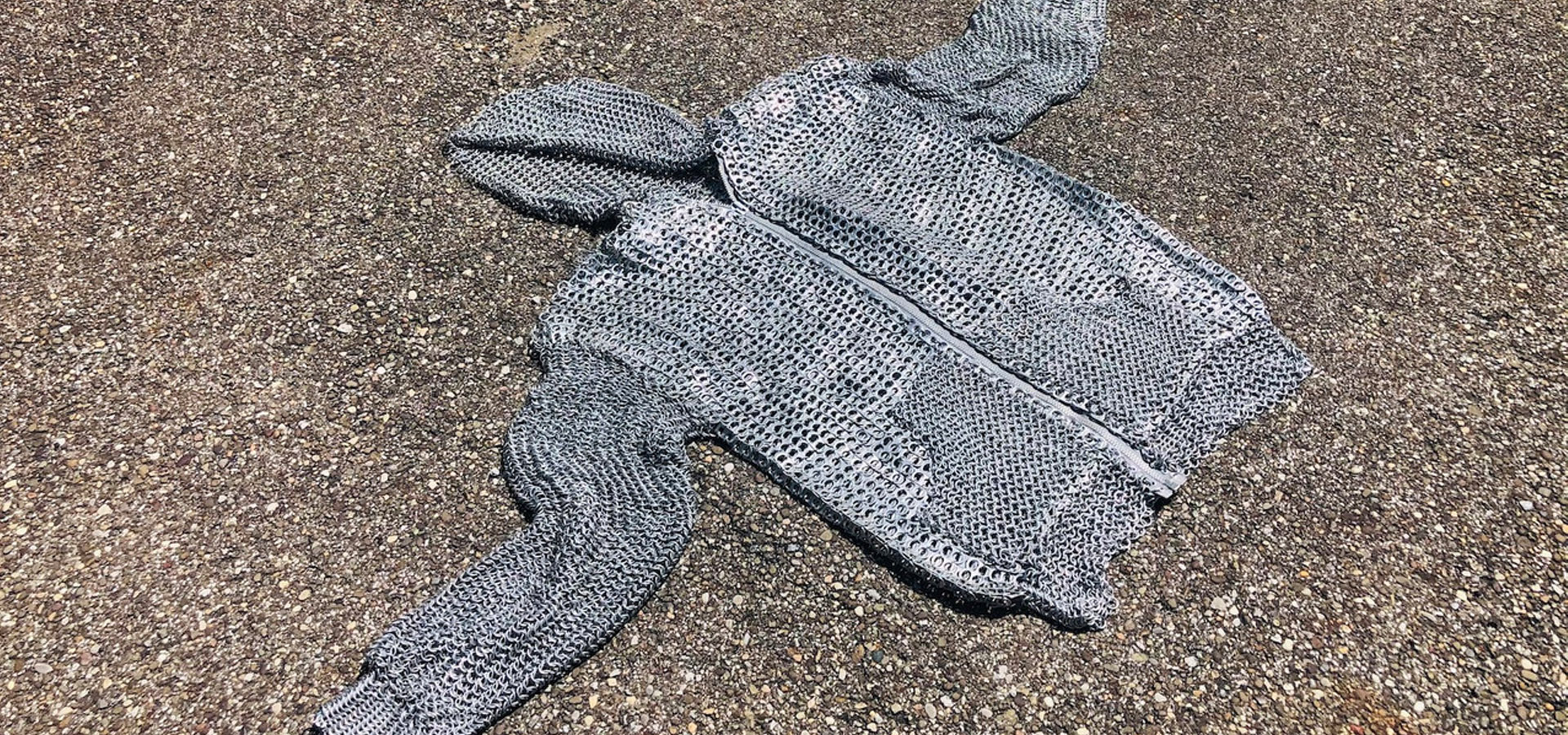 Aluminum can tabs and jump rings
As an artist, Shani Richards makes work through the investigation of materials, objects, craft processes, body adornment, and people. This investigation relates to her interest in the history of post-colonialism in America. Richards creates objects that address issues of racism, sexism, and stereotypes to provoke the viewer into a critical engagement. She researches like a detective who tries to fill in the blanks in a history that excludes working-class minorities: The faceless and nameless who worked the land picking cotton, digging coal, and cleaning ditches. In her work, Richards attempts to juxtapose the past with the present, in order to critique a society that refuses to see how the past connects to our present.
This piece was inspired by the murder of black teenager Trayvon Martin. She transformed the material of a hooded sweatshirt into aluminum can tabs and jump rings to invoke an attempt for protection. In the past men wore chainmail on the battlefield for protection from swords, snake bites, and crossbows. However, chainmail became obsolete with the invention of guns. Although her hooded sweatshirt visually looks very heavy, the material choices she made (along with the title Bulletproof ) are a commentary on the armor like the quality of the piece, a DIY attempt to protect, but will ultimately fail to protect the wearer from a bullet.
Shani Richards, Bulletproof, 2015. Image courtesy of the artist
Shani Richards was raised in Akron, Ohio. She graduated with BFA in metalsmithing at the University of Akron in 2006. In May 2016 Shani graduated with MFA in Metal at the State University of New York, New Paltz and presented her Thesis show titled "Make it Plain" at The Samuel Dorsky Museum of Art. In 2018 she was awarded a Fellowship from The League of Creative Interventionists. In 2020 Shani was awarded art residency with The Akron Soul Train. Shani was one of six artists selected to be a part of The Sculpture Center 2022 Emerging Artists Series.